2019 Namibia Initiative
JUNE 22-29, 2019 NAMIBIA VOLUNTEER INITIATIVE
Community and School Learning Center
Nghiteke Primary School Humanitarian Initiative
We will be shipping a pre-fabricated school building made from a 40′ shipping container to Namibia, where it will be placed on the site of an Nghiteke Primary School in Eeshoke Village (4km west of Oshikango). This building will be serve as a learning center and library for an entire village and surrounding region, housing educational materials that they previously have not had access to in their extremely remote region. The school currently houses 350 children, many of whom are designated Orphans and Vulnerable Children (OVC).OVCs are orphans, fostered children, children in households with no adults age 18-59, and children in households with chronic illness or recent death due to chronic illness. Estimates are that by 2021, one in three Namibian children will be orphaned. Over three-quarters will be orphaned by AIDS (UNICEF). OVCs are 8% less likely to attend school, especially because every school requires children to pay school fees, buy a uniform, and purchase supplies. This building will serve as a free-access learning center for the entire community.
Our fundraising target for the school building, paint, bookshelves, and the transportation of the building and books to the village is $15,000.
Volunteer Initiative Cost and Itinerary
Estimated Cost: $500 – $750 not including airfare to and from Windhoek, Namibia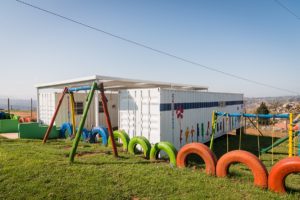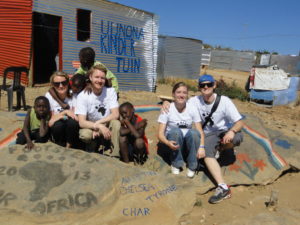 Tentative Itinerary
June 22: Arrive in Namibia. R&R from jet lag!
June 23: Travel to Etosha National Park. Safari and Overnight.
June 24: Morning Safari, Travel to Eeshoke Village (4km away from Oshikango).
June 25-26: Humanitarian initiative at Nghiteke Primary School (see description below).
June 27: Travel to Opuwo. Visit Himba Village. Overnight.
June 28: Travel to Windhoek. Visit curio/souvenir village.
June 29: Fly home
Additional Option: Victoria Falls June 20-22. Many activity options including Zambezi River tour, elephant back safari, lion walk or interaction, and bungee jumping over the Zambezi River for those who dare… (https://www.victoriafalls-guide.net/victoria-falls-prices.html). For those who do this, they will want to fly directly into Victory Falls on June 20 from Johannesburg, then we will proceed to Windhoek on June 22.
If you are interested in joining the trip, please contact Austin at Austin@footstepsforafrica.org